Greetings from the Director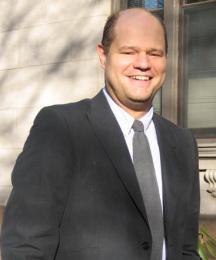 The global economic environment has become increasingly complex and poses a myriad of new challenges for policy analysts and professionals in all fields. Changes in both the political and economic arenas have been rapid, and researchers and policy analysts must be able to evaluate such changes and respond quickly to new conditions. The ability to respond requires that leaders have a detailed understanding of the economic forces that affect economic outcomes. Careful economic policy analysis requires practitioners who can make use of the most current academic literature, as well as do empirical and econometric analysis using the latest approaches and methods. In addition, policy makers will need both theory (understanding how individuals and firms make decisions) and data to guide their decision making.  The IDE program at Yale University, housed in the Economic Growth Center as part of the Department of Economics, is a one-year Masters program intended to help students build the necessary toolkit for embracing such obstacles in their future careers, whether as career practitioners and economic analysts, or to follow a path through the policy analysis field on their way to subsequent doctoral work.
The IDE program began in 1955, and it retains its original environment of small cohort sizes (currently about 30 students per year). It is a highly selective program, particularly with regards to the need for the skills necessary for cutting-edge graduate level work in microeconomics, econometrics, macroeconomics, policy analysis, and development economics.  While over half of our students come directly to the program from undergraduate programs, many others come into the program after working for between 2 and 5 years in either the private sector, government agencies, or policy analysis and research organizations.  While several of the program's graduates head to PhD programs in economics or other related fields after finishing the IDE program, virtually all of them do so after a year or two of working for policy and research groups, such as J-PAL, IPA, EPoD, the World Bank, the IMF, etc. Thus, while the IDE program does serve as very useful preparation for a PhD, the program is not a "pre PhD" program per se.  Rather, for students interested in rigorous, graduate level work in economic policy analysis and applied econometrics, the IDE program is ideally well-suited to prepare for such positions, as well as for subsequent graduate work in these areas. The curriculum of the IDE program is designed to help students develop a solid core of analytic skills and although it does not have a research component (or a thesis requirement), it is designed to produce graduates who are aware of, and able to process, leading edge academic and policy research.
The greatest strength of the IDE program are the students, and they come from a myriad of educational, work experience and country backgrounds.  As a result, there is no "single" IDE student profile that enters the program.  While approximately three-quarters of each class come directly to Yale from undergraduate schools and have little or no work experience, the remaining one-quarter of students have some graduate training and/or early career experience.  And while many of the IDE students are from lesser developed countries, here again we do not have an established profile of where students come from.  In fact, we have many students each year from (or who did their undergraduate studies in) the U.S., the U.K., and Europe.  A common trait found among all of the IDE students is a strong interest in international and development economics.  And while many of the IDE students did their undergraduate studies in economics or similar fields, we also have a few students in each cohort who come from other educational areas, but who wish to build up the skills to do work in this area.  We do have a preference for students with strong analytical and quantitative backgrounds, given the nature of course work in graduate level economics and econometrics that the IDE program entails.  In short, we encourage applications from all countries and from all post-baccalaureate backgrounds. 
There are two joint degree options that are available to students in addition to the regular IDE program: the joint IDE program with the School of Forestry & Environmental Studies, and the joint IDE program with the School of Public Health.  Application to the School of FES or the School of Public Health must be made simultaneously with the application to the IDE program.  Admission to these joint programs is determined by the participating professional school and must be obtained prior to beginning the program.  Joint-degree students earn the Master of Arts degree in IDE and the Master of Environmental Studies (FES) or the Master of Public Health (MPH) degree.  The IDE program is expected to be completed in one academic year, and there are no provisions for part-time study.  Please contact us if you would like further information on the structure and timing of these joint degree programs.
Finally, as mentioned above, while a significant fraction of IDE students (about one third of each cohort roughly 2 years post their IDE degree) continue their academic training in PhD programs in economics, public policy, environmental economics and the like, the program is not intended as a gateway to Yale's Ph.D. Program in Economics.  While IDE students have gone on to Ph.D. programs in other schools and departments at Yale, we encourage graduates who wish to pursue a Ph.D. in Economics to do so at another university.  Of course, students who desire to obtain a Ph.D. in Economics are encouraged to apply to the Ph.D. program offered by Yale's Department of Economics.
Michael Boozer, Director
July 2017