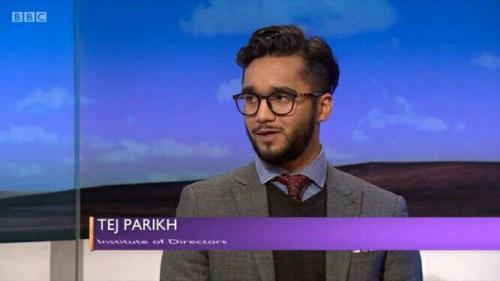 Tej Parikh (IDE '16) is currently a  Senior Economist at the Institute of Directors and an independent global policy journalist. In that capacity he was interviewed by the BBC Daily Politics show on the productivity gap. The program tried to understand why it takes a German worker four days to make what takes a British worker five days. The hosts try to investigate if the uncertainty that Brexit poses prevents crucial investment into new capital that would boost productivity.
"We need a wholistic and long term approach when we look at productivity." Tej argues further that the new budget does have elements that can boost productivity by promoting investment. Tej, however admits that "there is a high level of economic uncertainty [...] that makes it hard for business to plan ahead" and in response he calls for more certainty in policy. 
Previously Tej worked as economist  at the Bank of England and Development Journalist at The Cambodia Daily and the Phnom Penh as well as as Consultant for the Institute for State Effectiveness.
The whole interview can be watched here: