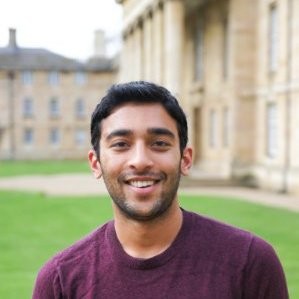 IDE Alumni Krishna Ramesh (IDE '17) returned to campus last Friday and visited the current IDE Class of 2019. Krishna came to campus to represent his current employer IDinsight at the Yale OCS Boutique Consulting Fair. Of course Krishna took the time for countless one-on-one coffee advice sessions with our current IDE students. 
In addition, IDinsight schedule a special recruitment event only for IDE students where Krishna presented his work and encouraged IDE students to start their exciting careers at IDinsight like many IDE students did before him. IDinsight has recruited IDE students for a number of years. At this time Krishna's collegues include Radhika Lokur (IDE '14) and Sonakshi Sharma  (IDE '14) whose work is based in Lusaka, Zambia.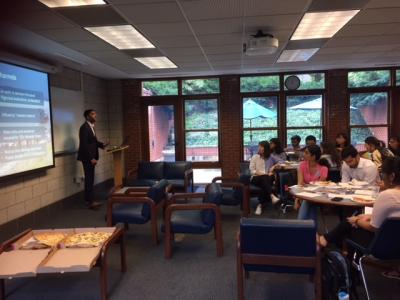 Krishna is very excited to use his program evaluation skills obtained at IDE on the Ghana Learning Partnership which is long-term, embedded engagement with the Ghanaian Ministry of Monitoring and Evaluation (MoM&E) to provide assistance in evaluation and implementation of Government priority programs. The primary focus of the engagement will be the Free Senior High School (FSHS) program. This program began in 2017 and is possibly Ghana's highest profile program, providing Free Senior High School education for approximately 480,000 students across the country. IDinsight is working with MoM&E and the Ministry of Education to help to implement, monitor, evaluate and improve this program, particularly focussing on the quality of education. 
Krishna enjoyed his trip back to New Haven and his visit to the Yale IDE program. Like him, many IDE Alumni visit campus for a variety of reasons and they always meet current IDE students. IDE is a small program which creates a very strong sense of belonging and thus a very strong Alumni Network through which many past students found employment or at least excellent mentorship and guidance.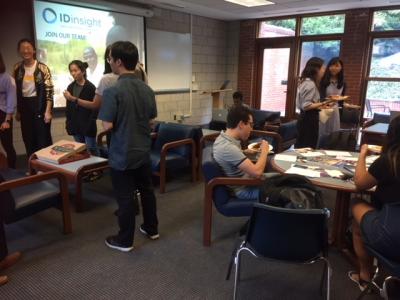 IDinsight helps leaders combat poverty worldwide by designing, deploying and promoting evidence-generating tools. Their services include experimental evaluation methodologies – including, but not limited to, randomized controlled trials – tailored to the priorities of international development decision-makers; monitoring and performance management systems to facilitate continuous data-driven improvement; policy design consulting and scale-up support. IDinsight's vision is to improve millions of lives by transforming how the social sector innovates, learns and improves. They serve governments, NGOs, foundations and social businesses across Africa and Asia in all major program areas including health, education, agriculture, livelihoods, finance, energy and governance.